Your guide to the perfect fit:
Druh combine the handmade finish of a premium strap with versatility to cut to your exact size. Each strap measures 1.5" width and 42" long when the end clip and buckle are attached. There are size intervals indicated on the back of the strap, these provide a guide to create your personalized fit. Simply follow the steps below.
Cutting your belt to size
1

Cut strap to the length required using the size guide on the back.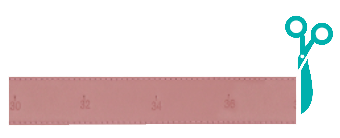 2

Insert the cut end of the strap into the end clip and secure by fastening with the metal clip.

3

Then attach your Druh buckle to the end clip.

Every premium cow hide used to make a Druh Tour Collection belt is checked and chosen by hand. This how you receive the finest of leathers. The benefits of full grain and special leathers made by hand, are their visible natural characteristics. These further enhance the individuality of the belt you have chosen and make it unique to you. On wearing, this originality is enhanced by you, as the natural leather softens and reacts to the warming and cooling of your body, sculpting it to fit even more comfortably.
Please note, when subjected to extreme heat and excess moisture, the leather may react to include slight colour changes and dye transference. This is normal of a natural product and Druh cannot accept responsibility for damage to connected materials.
In order to ensure that you can enjoy this beautiful piece for as long as possible, we strongly advise that you do not expose your belt to water, chemicals or conditioners, as these will break down it's integrity.